Fun agility is a great way to have some fun with your dog while enforcing the bond between you and providing a chance for socialisation with other dogs and owners alike.
Add to this a training element which focuses on both physical and mental exercise, which will tire them out in a different way than just running around after other dogs, and its win-win.
Everyone is welcome to come along and there is no required standard.
Any dog can learn and you can take it as seriously as you want to.
Children are welcome to take the dog around which helps them bond together and burn off some of their energy too.
The course is growing all the time as new equipment is arriving bit by bit for the spring 2019.
This means we are now starting to set up a beginner/training course to practice on before using the full course.
Please see below for the times, prices and directions.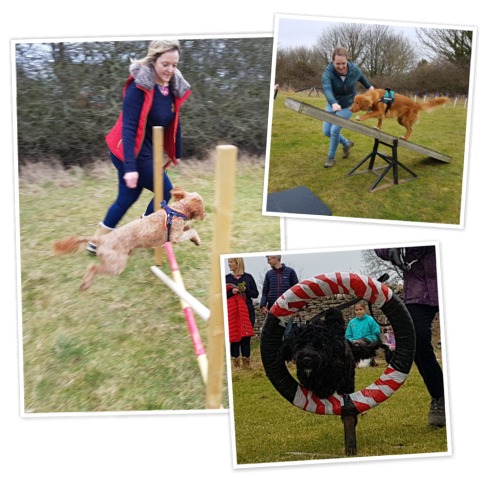 Times
Fun agility for dogs will continue to be held every Sunday* in the field opposite the Farm Shop in Chedworth and will be set-up from 10:15 to 11:30.
*All dates are weather permitting
Please check my facebook page to find out if the session is still on
Prices
£8 per session
Pay on the day or pay online here (Cotswold Pet Services).
Please register your interest using one of the options below:
Phone or text 07842 025361
Or use the enquiry form on our homepage under contact us.
Directions
The farm shop is located just off the Fosse Way/A429, post code GL54 4NQ.
Park in the Farm shop car park then cross the road to the field opposite and you should see the equipment set up down the bottom of this field.
You can also have a coffee afterwards in the café or some home-made ice cream if you so wish as the farm shop and café are dog friendly.
It will be great to see you and your dog joining in and having some fun!
Kind regards,
Simon